I love pancakes! I make them just about every weekend. Last weekend I made them twice. Sunday I made huckleberry pecan pancakes, which were to die for. Saturday I made BANANA PANCAKES! I found a low-cal healthy recipe I really wanted to try and they were so good I decided to share them with you. I also loved the idea of these pancakes because my oldest son, who is serving an LDS mission, plays the guitar and
THIS
song by Jack Johnson was one of the first he learned to play.
Banana Pancakes
1/4 c whole wheat flour
1/4 c ripe banana, mashed
3 T Egg Beaters (I used 1 egg white instead)
1 T skim milk (or more if the batter is too thick)
1/4 t baking powder
1/4 t vanilla
1 packet Equal or other artifical sweetener
dash salt
dash cinnamon
dash nutmeg
Combine all the dry ingredients. Combine all the wet ingredients. Mix together. This is a thickish batter; it won't be as thin as regular pancake batter. Cook 5 pancakes on a hot griddle.
(I added 1Tbl. of finely chopped pecans for a crunchy kick!)
This recipe came from
400 Calories or Less Everyday Meals for Everyday Living
1 serving = 185 calories per serving
Aileen has several recipes on her website I can't wait to try. Give her a look-see. Enjoy! ~jan
I love participating in
THESE
linky parties! AND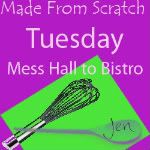 Thanks Ladies!